by Kurt Gottschalk
It was the second-to-last day of the Taylor 2 Dance Company's three-week residency at Adelphi University. After two weeks of course work and watching the visiting professionals in rehearsal, dance students had spent their final week in the Performing Arts Center getting a little taste of the big time.
Coached by the visiting Taylor 2 dancers and their esteemed choreographer Paul Taylor—who taught dance at Adelphi in 1962 and was given an honorary doctorate by the school in 2008—students practiced and mastered a performance to present in a "friends and family" concert the following day.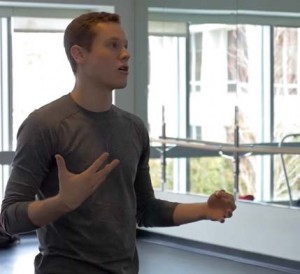 Upstairs in Dance Studio 4, Kara Hauenstein, an Honors College senior earning a B.F.A. in Dance, was learning Cloven Kingdom, Taylor's choreography set to a Henry Cowell waltz. Scatterings of laughter bounced across the room as the dancers twirled to the triple beat, interrupted occasionally by incongruous rock drumming.
Amanda Stevenson, one of the Taylor 2 visiting instructors, was working with a few of the dancers on a particular turn they were having trouble with. "You want to try to get the audience to see two shoulder blades—really hang on to it as long as possible," she explained, twisting her torso in illustration. "Keep the integrity of the side, back, front, keep the circle—all those things we worked on the first day."
Meanwhile, Princeton McCurtain, another of the Taylor 2 dancers, helped Hauenstein with a kick she was taking a little too exuberantly, telling her not to "let her leg fly up." She covered her mouth in a quick giggle. Good moods filled the room.
"There's a lot of people on the stage, so you can make eye contact and have a lot of fun within the piece, as opposed to soloing, where there's not as much eye contact," she said after the rehearsal.
Marion Davidson, an Honors College junior also earning her B.F.A. in Dance, meanwhile, was downstairs working on Dust, a challenging piece set to music by Francis Poulenc. Davidson's concentration and demeanor indicated a more serious atmosphere, that this piece might not have been the same kind of fun.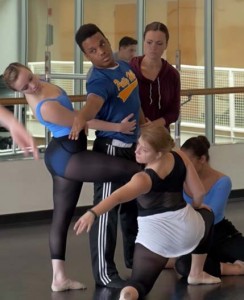 "It doesn't tell as much of a linear story; it more gives the audience a feeling," she said. "It questions whether hope is still possible to people in times of plague. We have people that seem to be disabled or injured and it's very powerful.
"It is hard to learn," she added. "It's nice to do something where you're not happy all the time. It's very powerful and it's also very exhausting on my body, which is good."
Both Hauenstein and Davidson emphasized what a great opportunity it was to get to work with the Taylor 2 dancers.
"It's a wonderful experience," Davidson said. "We learn so much from them because not only are they currently in the company but they haven't been there as long as other people." She noted that it was refreshing to learn from dancers who are of similar age. "They can help us [not only with] dancing but also the transition from college into auditioning and joining a company."
Orion Duckstein, assistant professor in the Department of Dance, sees both sides of the equation. He was a member of Taylor 2 as well as the Paul Taylor Dance Company, the primary troupe, for five years before coming to teach at Adelphi. He was also instrumental in setting up the Taylor 2 residency in 2010.
"It's a really unique experience," he said. "[The students] get to work hands-on with people who are actually dancing, with people who are just a couple of years older than they are who have professional careers. They're getting a look at what their lives could be like—if they work really hard and get lucky—in a couple of years."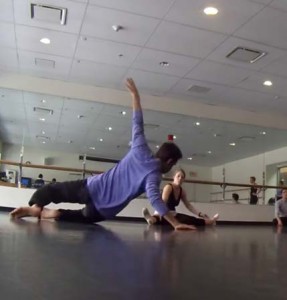 But the benefits go both ways, Duckstein said.
"You get to stay three weeks in a place and get to know students and work really close with them," he said. "I think that's very different from showing up and giving a master class. …Here, they really get their hands dirty with the kids—you're on the floor with them." And he meant it. In another studio, working with students on Taylor's Sunset, Duckstein ran, circled and fell into a slide across the floor while explaining each of the moves in the choreographed succession.
He added that the Taylor 2 dancers "are working on depth of performance" with the students,  "really taking them from the classroom to the stage in a very concentrated period of time."
---
This article appeared in the Spring 2015 edition of The Catalyst, the College of Arts and Sciences newsletter.
About Adelphi: A modern metropolitan university with a personalized approach to higher learning.
Adelphi University is a highly awarded, nationally ranked, powerfully connected doctoral research university offering exceptional liberal arts and sciences programs and professional training with particular strength in its Core Four—Arts and Humanities, STEM and Social Sciences, the Business and Education Professions, and Health and Wellness. Adelphi is dedicated to transforming students' lives through small classes, hands-on learning and innovative ways to support student success.
Founded in Brooklyn in 1896, Adelphi is Long Island's oldest private coeducational university. Today Adelphi serves nearly 8,000 students at its beautiful main campus in Garden City, New York—just 23 miles from New York City's cultural and internship opportunities—and at dynamic learning hubs in Manhattan, the Hudson Valley and Suffolk County, and online.
More than 115,000 Adelphi graduates have gained the skills to thrive professionally as active, caring citizens, making their mark on the University, their communities and the world.