by Cecil Harris
"Adelphi's Garden City campus is [just 23 miles] from New York City, which allows for all sorts of cultural exploration."
Kelly Brown '08, a former dancer, decided to pursue a career as a stage manager when, during her sophomore year at Adelphi University, she handled that job for a campus cabaret production. "Everything about that assignment felt natural and completely fulfilling," she said. "I had found my niche."
Since graduating from Adelphi's Honors College, Ms. Brown has been a sought-after stage manager. In 2014, she became the production stage manager for Atlanta Ballet. "This is a huge honor and a big career step for me," she said. "Very few stage managers get a position like this before they are 30."
Ms. Brown has handled her job expertly in more than 60 different productions and more than 1,000 performances.
"The stage manager is the hub of information and communication for all aspects of a production," said Ms. Brown, whose responsibilities include coordinating auditions and meetings, scheduling and running rehearsals, scheduling costume fittings, training the technical crew and assembling a promptbook that contains the show's script and score, and which dictates everything that happens during a performance.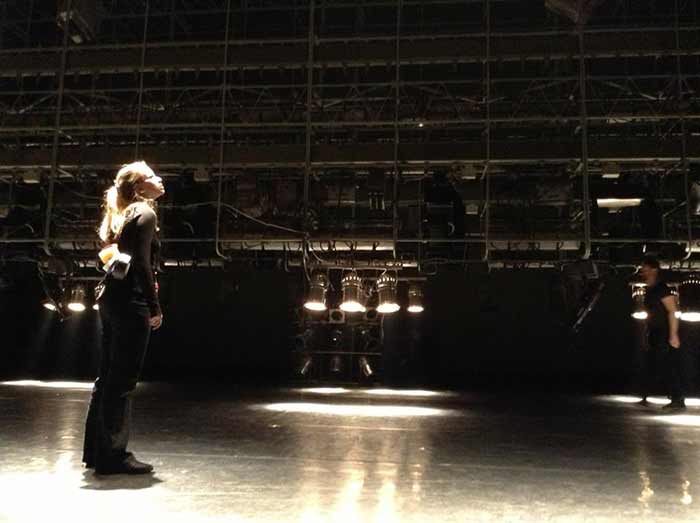 Working primarily with dance companies, Ms. Brown has traveled to Australia, Canada, Hungary, Italy, Israel, Mexico, New Zealand, Russia, South Korea and Ukraine.
"Being part of a constant, collaborative, artistic process is a special thing," she said. "It is an intimate relationship and it requires tremendous trust. Knowing that designers, directors and performers trust me with their art gives me tremendous pride."
Ms. Brown, who earned a B.F.A. in Theatre Arts: Design/Technology, credits Adelphi for her success.
"Adelphi's design/tech program is structured to expose you to all aspects of production—in contrast with many conservatory programs, which require you to choose an area of concentration right away and tend to lock you into a career path in your freshman year," she said.
"Adelphi's Garden City campus is [just 23 miles] from New York City, which allows for all sorts of cultural exploration. I attended productions for free or at drastically reduced prices because of the arts and culture program in the Honors College. Many of my first internships and jobs happened while I was still in school. I was able to commute by train to New York City with ease while maintaining my studies."
Ms. Brown offered this advice to students eager to follow in her footsteps:
The more skills you have, the more employable you are. Being able to read music is a valuable skill for anyone wishing to stage-manage opera, dance or musical theatre. 

Always be respectful, courteous, humble and professional. It's what people will remember about you after the show closes. Everyone is a possible connection for your next job.

When the stage manager panics, everyone panics. So, never panic.

Be totally committed to everything you do without losing sight of your work-life balance.

Every experience is an opportunity to learn. Never stop learning!