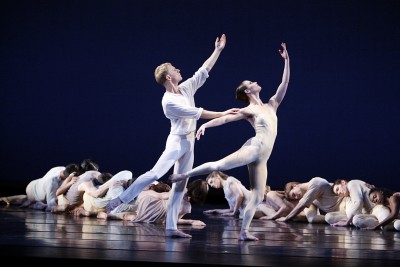 Adelphi has historical ties to famed dancer and choreographer Paul Taylor and the Paul Taylor Dance Company. In 1962, when he was teaching at Adelphi, Mr. Taylor choreographed Aureole, the piece that made his name. In fact, according to his autobiography, he did much of the choreography while on the train to and from the Adelphi campus.
Thanks to a new collaboration, the longtime connection with Mr. Taylor and his company continues.
This past winter, Dean Garner along with Sam Grogg, the dean of the College of Arts and Sciences, met with members of the Paul Taylor Company to explore new collaborations. Adelphi is fortunate to have a former member of the company, Orion Duckstein, as one of the professors in the dance department. As a result of this meeting, an exciting project emerged.
Beloved Renegade, one of the pieces performed by the Paul Taylor Company at Lincoln Center in Spring 2012, was inspired by the life and poetry of Walt Whitman. Seizing on this opportunity, Dean Garner, Honors College Associate Dean Diane Della Croce, and Honors College Academic Director Gregory Mercurio incorporated the poetry of Walt Whitman into a required Honors course, The Human Condition in Literature and Art. Human Condition students were offered the opportunity to attend the Paul Taylor performance of this piece as one of their cultural events. In order to prepare for the performance, Professor Duckstein invited the students to AUPAC, where, in the new dance studios, he gave the students fascinating background about Paul Taylor dance in general and about Beloved Renegade in particular.
At Lincoln Center, students met in the green room during the intermissions for additional enrichment provided by Professor Duckstein and a representative from the dance company.
Every stage of the project was videotaped, including the classroom discussions of Whitman, Professor Duckstein's presentation and demonstration, the night at Lincoln Center and some afterthoughts with Honors students in Dean Garner's office.
We hope this will be the first of many exciting and innovative interdisciplinary collaborations bringing together the curricular and co-curricular aspects of the Honors College.
Watch for the video of this project on the Honors College website, academics.adelphi.edu/ honors-college.
---
Reprinted from LAUD, The Adelphi University Honors College Newsletter, 2012
About Adelphi: A modern metropolitan university with a personalized approach to higher learning.
Adelphi University is a highly awarded, nationally ranked, powerfully connected doctoral research university offering exceptional liberal arts and sciences programs and professional training with particular strength in its Core Four—Arts and Humanities, STEM and Social Sciences, the Business and Education Professions, and Health and Wellness. Adelphi is dedicated to transforming students' lives through small classes, hands-on learning and innovative ways to support student success.
Founded in Brooklyn in 1896, Adelphi is Long Island's oldest private coeducational university. Today Adelphi serves nearly 8,000 students at its beautiful main campus in Garden City, New York—just 23 miles from New York City's cultural and internship opportunities—and at dynamic learning hubs in Manhattan, the Hudson Valley and Suffolk County, and online.
More than 115,000 Adelphi graduates have gained the skills to thrive professionally as active, caring citizens, making their mark on the University, their communities and the world.